If you're a bit of an iconoclast and you enjoy exploring pre-history, astronomy, ancient/classical wisdom, and/or Vedic thought, you may enjoy this.
With respect, this is not, however, an invitation to a debate.
I'd like to engage in a friendly exploration of the topics mentioned in the title - using Integral lenses and principles - with the intention of comparing notes and discovering/sharing any insights, breadcrumbs, or epiphanies, etc, that may be of value to us in our own lives and/or in helping to address the issues of today and the future.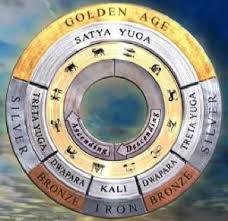 I have no particular thesis, no premise, etc, except that I personally hold TheYugas/The Great Year/Precession of the Equinoxes along with many other facets of ancient ('prehistoric') wisdom to be true (although some are clearly metaphorical). I'd like to apply the 'Integral lens' in community leveraging the contribution of different perspectives from IL members and see whether they are even relevant enough to draw any comparisons/conclusions!
New scientific evidence has been emerging periodically that actually supports the possibility of these extended astronomical cycles and lost advanced civilizations. To understand them more completely requires, among other things, a willingness to question and possibly reimagine linear evolution, i.e., are older developments always less sophisticated than how we live today?
Somewhere several years ago in one of his lectures, I'm sure I heard Ken Wilber refer to one or both of the higher Yugas: Satya and/or Treta. I can't remember his take or even the context… I haven't been able to rediscover where that was, so if you can help that would be wonderful! I'd ultimately like to discover whether he will revisit it and if he has any new thoughts on the topic.
References:
FILM
BOOKS
The Yugas: Keys to Understanding Our Hidden Past, Emerging Energy Age and Enlightened Future (Joseph Selbie and David Steinmetz, et al)

Lost Star of Myth and Time (Walter Cruttenden, Rhys David, et al)

Hamlet's Mill: An Essay on Myth and the Frame of Time (Giorgio de Santillana and Hertha von Dechend)

The Holy Science (Sri Yuktaswar)