Hi everyone!
If you're interested in helping to further develop the Integral Community, both online and offline, then read on!
During the recent online dialogue titled "Community Conversations", we discussed three main topics:
Conditions for a generative Integral dialogue

The polarity of Inclusion & Exclusion in relation to the Integral Community

Possible next steps regarding community activities
Among the conditions for a generative Integral dialogue, the following were mentioned:
Attentive listening
Simplicity (avoiding unnecessary jargon which not everyone might be familiar with)
Speaking from our highest self
Speaking from our own territory
Politeness
Openness
Self-management
Respect
(Feel free to add any extra conditions in the comments below!)
We then discussed the Inclusion & Exclusion polarity in regard to the Integral Community using the following Polarity Map (created by @corey-devos):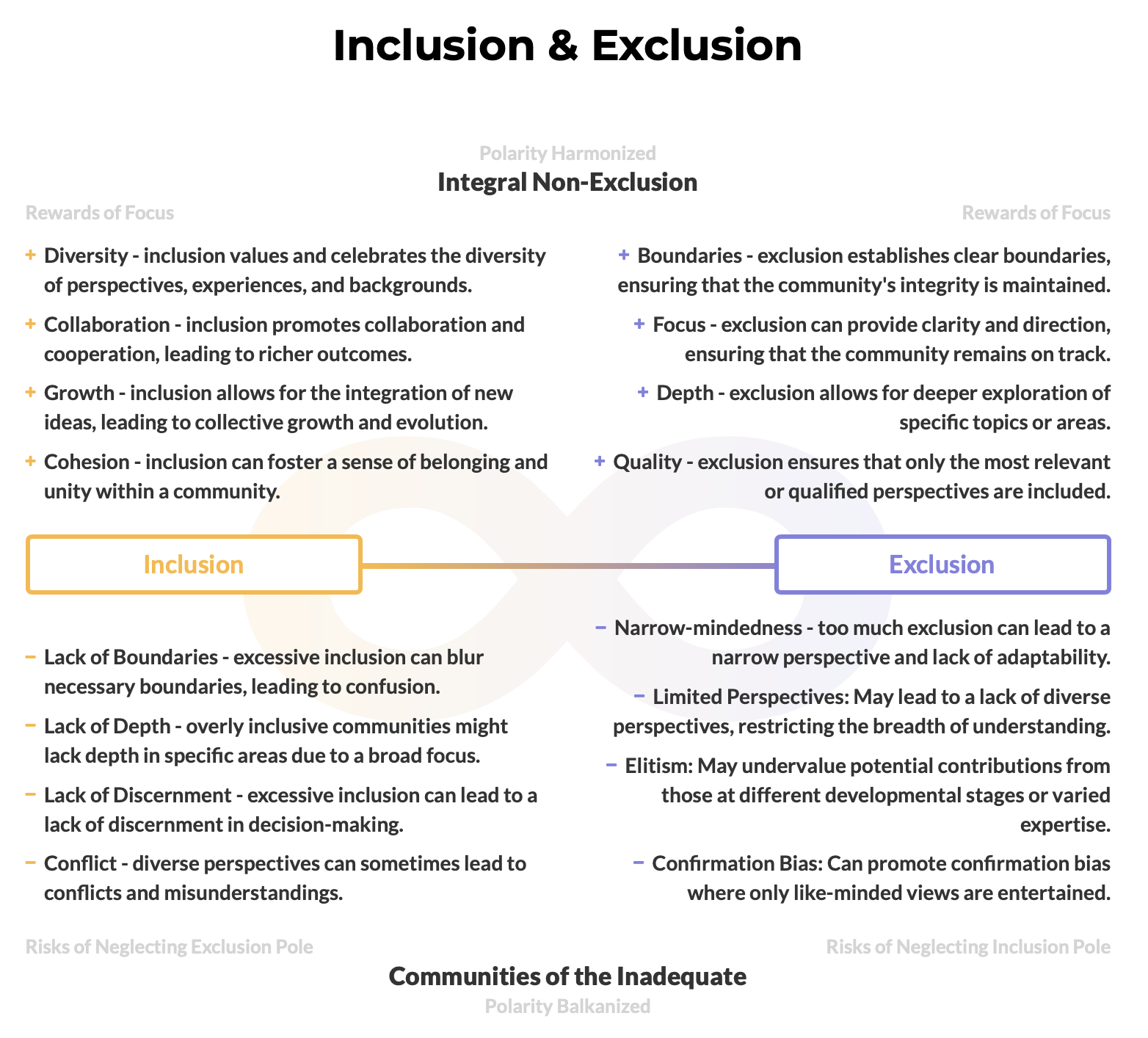 We explored the need for healthy boundaries (like membranes in cells, as suggested by Brandon Norgaard) and the general consensus appeared to be that everyone's welcome within the Integral Community, as long as they're willing and able to interact constructively with all other members.
(Feel free to further concretize in the comments below!)
We also briefly explored the possibility of monthly "Community Conversations", during which members of the Integral Community can collectively explore various themes.
The next "Community Conversation" is scheduled on Wednesday, November 29th, at 11AM PST (20:00 CET). The topic of this dialogue will be "Organizing Integral Holons".
Among other topics, we'll explore the experiences of Integral Community members who organized in-person gatherings in the UK and the Netherlands (and possibly the US).
We'll also discuss the possibility of future gatherings and possible ways to organize the further development of the Integral Community (both in Europe and in other areas, including the US).
Please use the comments section of this thread to share your views, preferences and reflections!
Have a lovely day, everyone!

P.S: Thanks to @corey-devos, @EnlightenedWorldview, @Charles_Marxer, @John_Whitman, @Andrew_Baines, @robert.bunge, @varunfranklin, @William_Koty, @Margrit_Eleonore…